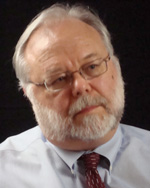 Rob Dean
Managing Editor
Rob Dean has been the managing editor of The Santa Fe New Mexican since 1992. Before then, he worked at newspapers in Montana and Washington state. A Montana native, he earned undergraduate degrees in journalism, history and politics from the University of Montana. He taught journalism at Pacific Lutheran University. He is past president of the New Mexico Foundation for Open Government and the Associated Press Managing Editors of New Mexico. He holds a master's degree in history from Norwich University in Vermont. In 2010, he edited the anthology Santa Fe, Its 400th Year: Exploring the Past, Defining the Future, published by Sunstone Press.
[NM 0201] - Part 1: Intro and Contribution (5:44)
Rob Dean, managing editor, Santa Fe New Mexican, started at The New Mexican in 1992. When he was hired at The New Mexican, he says, "I thought I might be on the last wave of journalists who really had that opportunity to work for a locally-owned newspaper that really had as its mission to serve that community above all else." Dean says The New Mexican "is of this community and [since many of its reporters come to Santa Fe to stay --] this community is in its blood."
[NM 0202] - Part 2: Ethics and Content (4:15)
Rob Dean, managing editor, Santa Fe New Mexican, says the New Mexican's ethics code was written 10 year ago, in house, and now it's being updated to reflect digital reporting and the use of social media by the newsroom. Dean says the newspaper "embraced the culture of the web" and opened its website for public comments. But subsequently, it instituted tougher rules for comments. Now "you [readers] have to identify yourself and ID yourself honestly" when you go online, says Dean.
[NM 0203] - Part 3: Strategic Changes (8:45)
Rob Dean, managing editor, Santa Fe New Mexican, says, The New Mexican has adopted the web "for breaking news and for its interactivity." When the recession cutbacks hit in 2008, Dean says the staff kept asking itself: "What do we need to be first and foremost?" Dean says that's when they decided to drop the free Spanish Language news weekly, and consolidate a number of sections in the newspaper, still emphasizing local coverage. He says the paper also considered converting to a tabloid-size publication, but the production staff, the reporting staff, and the public informally vetoed the conversion.
[NM 0204] - Part 4: Adaptation & the Future (5:49)
Rob Dean, managing editor, Santa Fe New Mexican, says reporters today "must have a variety of skills he or she didn't have a decade ago." Looking forward, the future is not clear to Dean, but "engagement with the community is what we seek."
[NM 0205] - Part 5: Prospects & Preparation (3:34)
Rob Dean, managing editor, Santa Fe New Mexican, says there are fewer newspaper jobs than there used to be, but students preparing for newspaper jobs need not worry because "there will be a way to use your skills." To prepare, you need to learn to "be good workers and good communicators." And you need to learn "to collaborate," says Dean.