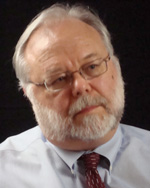 Rob Dean
Managing Editor
Rob Dean has been the managing editor of The Santa Fe New Mexican since 1992. Before then, he worked at newspapers in Montana and Washington state. A Montana native, he earned undergraduate degrees in journalism, history and politics from the University of Montana. He taught journalism at Pacific Lutheran University. He is past president of the New Mexico Foundation for Open Government and the Associated Press Managing Editors of New Mexico. He holds a master's degree in history from Norwich University in Vermont. In 2010, he edited the anthology Santa Fe, Its 400th Year: Exploring the Past, Defining the Future, published by Sunstone Press.
[NM 0401] - The Story of The Santa Fe New Mexican (3:14)
Rob Dean, managing editor, Santa Fe New Mexican, says the newspaper was founded by "a group of Easterners" in 1849. The newspaper was an advocate for statehood, and it had several owners until Robert McKinney -- another Easterner -- purchased it in 1949. McKinney ran it until he sold it to Gannett in 1976, but he retained the title, editor and publisher. This subsequently led to a big fight between McKinney and Gannett, and after 12 years of litigation, McKinney purchased the newspaper back in 1989. He ran it until his death in 2001. Now his daughter, Robin McKinney Martin, runs the newspaper.