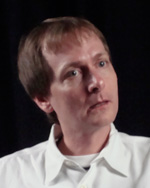 Rob Curley
Senior Editor, Digital
Rob Curley is senior editor of the new-media division of the Las Vegas Sun and Greenspun Media Group. He joined Greenspun in June of 2008. Prior to heading to Las Vegas, Curley was Vice President of Product Development at Washingtonpost.Newsweek Interactive for two years and director of new media and convergence for the Naples Daily News and its sister publications along Florida's Gulf Coast.
From 2002 to 2004, Curley held management positions in the interactive operations and editorial departments for the Lawrence (Kansas) Journal-World. He gained national attention when he became one of the first online editors in the nation chosen to lead a news organization's entire print and broadcast news operations. From 2000 to 2002, Curley was new media director for the Topeka (Kansas) Capital-Journal.
In 2001 the Newspaper Association of America named Curley the industry's New Media Pioneer of the Year, making him the youngest person to win the award. Curley's groundbreaking work has been documented in college journalism textbooks, industry and mainstream magazines and white papers, and a 20-minute segment on National Public Radio's Morning Edition.
[NV 0301] - Part 1: Introduction and Contribution (6:23)
Rob Curley, senior editor, digital, Las Vegas Sun, came to The Sun in 2008. Curley was drafted into the digital world as a young reporter at The Topeka Capital-Journal because he was using the Internet. "I had an e-mail address, so certainly I could do this," says Curley with a smile. When he became The Capital-Journal online editor he "helped design the website and do the ads." "It was all-consuming," says Curley. Since then Curley has become well known in the digital news world after stops at The Lawrence (Kansas) World-Journal, The Naples (Florida) Daily News, and The Washington Post.
[NV 0302] - Part 2: Skills (4:45)
Rob Curley, senior editor, digital, Las Vegas Sun, says he wants to be certain newspapers take advantage of the Internet so they can continue their mission of community service. "I don't want there to be a news equivalent of Craig's List to come in and wipe out what we do," says Curley. "We have to draw a line and say, 'No. You don't get this one,'" says Curley. "Sometimes my head is up in the clouds a lot because I don't want us to be beat by something that's so obvious," says Curley.
[NV 0303] - Part 3: Adaptation & the Future (5:43)
Rob Curley, senior editor, digital, Las Vegas Sun, says despite his immersion in the digital world, he does not expect print to disappear soon. "Print gives you the authoritative moment," says Curley. The Sun's mission is to deliver the news wherever the public requests it. "I don't care how they want our content," says Curley, "just so they want it." After 10 years of trumpeting its arrival, Curley says that the time for mobile products has arrived. Curley says The Sun is "of the Internet," which means the newspaper understands the key issue to resolve is "how news will fit into the ecosystem of the Internet" as it evolves.
[NV 0304] - Part 4: Preparation (2:37)
Rob Curley, senior editor, digital, Las Vegas Sun, says candidates need to learn every aspect of online reporting if they want to become digital news managers. "To [manage or teach] something, you should know how to do it well." "I don't know how you do it if it is not integrated into everything you do," says Curley. And, Curley says, prospective reporters need to learn how the business of journalism works. "Don't be naive that this is a business," says Curley.