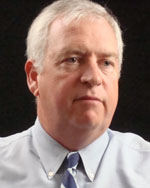 Kevin G. Riley
Editor
Kevin G. Riley is the editor of the Dayton Daily News and editor-in-chief for Cox Ohio Publishing's 12 newspapers and associated web sites. Riley was named editor in January of 2007. He had been deputy editor of the Dayton Daily News since September 2006, and served in many capacities for the newspaper since 1983, when he started his career as a copy editor. Former publisher of Cox Ohio's Springfield News-Sun, Riley has also served as Internet General Manager for Cox Ohio.
Riley has been named one of the industry's "20 Under 40" by the Newspaper Association of America. He was also a member of the association's Online Audience Development Committee and a mentor in its New Media Fellowship program. He has been a fellow at the University of Southern California's "Transforming News Organizations for the Digital Now," and he has attended Northwestern University's "Digital Strategies for Media Executives" conference.
[OH 0201] - Part 1: Intro and Contribution (5:36)
Kevin Riley, editor, Dayton Daily News, says his goal, as a news editor, is "to make the world the readers live in a better informed place." "When we are at our best," he says, "we are making sense of things for our readers."
[OH 0202] - Part 2: Ethics & Content (5:38)
Kevin Riley, editor, Dayton Daily News, says the goal of his newspaper's website is "to be first and best. " He says the Dayton Daily News stresses "immediacy on line" and "importance" on the front page of its daily print edition.
[OH 0203] - Part 3: Strategic Changes (3:22)
Kevin Riley, editor, Dayton Daily News, says his newspaper now focuses on "key communities" and stresses local news. He is also hopeful the January 2010 merger with Cox-owned WHIO-TV and WHIO radio, will give the newspaper access to more useful research to guide its coverage.
[OH 0204] - Part 4: Adaptation & The Future (4:50)
Kevin Riley, editor, Dayton Daily News, says that as competition increases and resources are constrained today's newspaper reporters need to consider, "How can I work smarter and better use my time?"
[OH 0205] - Part 5: Prospects & Preparation (2:41)
Kevin Riley, editor, Dayton Daily News, believes there will always be a promising future for individuals who can: "write … think … analyze … and tell a story." So students who master those skills need not worry whether newspapers persist in print or transition into digital media.