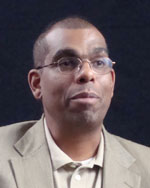 Ray Marcano
Director of Digital Strategy
Ray Marcano is Director of Digital Strategy for CMG Ohio. He began his career at Westchester Rockland Newspapers in White Plains, NY and also worked at a small weekly in his hometown of New York City. He worked at two newspapers in Oklahoma, including the Tulsa World, before coming to the Dayton Daily News. In Dayton, he's held a number of reporting and management jobs including sports editor, metro editor, regional editor, Deputy Managing Editor and Internet General Manager. He is the former national president of the Society of Professional Journalists and is a two-time Pulitzer Prize juror. His web site, www.RayMarcano.com, keeps those interested in digital media up to date on the latest trends.
[OH 0301] - Part 1: Intro and Contribution (2:51)
Ray Marcano; director, digital strategy; Cox Media Group Ohio (Dayton Daily News), was motivated to be a reporter after a sports editor told him, "You'll never be a journalist," during a college internship. Later Marcano served as president of the Society of Professional Journalists (SPJ).
[OH 0302] - Part 2: Skills (4:15)
Ray Marcano; director, digital strategy; Cox Media Group Ohio (Dayton Daily News) says despite the complexity of the digital world, the key to his job "is managing people and projects."
[OH 0303] - Part 3: Strategic Management & Content (5:15)
Ray Marcano; director, digital strategy; Cox Media Group Ohio (Dayton Daily News), expects newspapers to be printed for at least the next five years because of the value of Sunday pre-print inserts and because a substantial part of the public still enjoys "the newspaper experience."