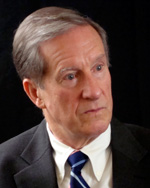 Richard Meeker
Publisher & Co-Owner
Richard Meeker has been Willamette Week's publisher since 1983, when he and Editor Mark Zusman formed City of Roses Newspaper Company to purchase the paper from the Eugene Register-Guard. Meeker started with the paper as a reporter at its founding in 1974 and became editor in 1977.
Meeker is a graduate of the University of Oregon School of Law (1974) and Amherst College (1970). He taught school for one year on Ocracoke Island on the Outer Banks of North Carolina. He grew up in Washington, D.C., where he got his start in newspapers in the seventh grade. Meeker is married to Ellen Rosenblum, a judge on the Oregon Court of Appeals. He and his wife have two children – Cate and Will.
[OR 0101] - Part 1: Intro and Contribution (8:14)
Richard Meeker, publisher and co-owner, Willamette Week, started at the newspaper in 1974 before the first issue was published. Meeker says Willamette Week was launched because there was "desire for a different voice" in the community. "I don't think it's the job of citizens to read newspapers," says Meeker. "I do think it's the job of citizens to be informed and engaged, and it's our job to help… ." Willamette Week also strives to serve as an accurate community bulletin board. "If there isn't a chronicle about an activity – the activity can't grow and flourish," says Meeker.
[OR 0102] - Part 2: Strategic Changes (5:34)
Richard Meeker, publisher, Willamette Week, says Willamette Week "has never been a newspaper that operates at a high margin. If we had a 5 percent margin we'd be thrilled," says Meeker. Meeker, a co-owner of Willamette Week, regrets management's delayed decision to reduce its overhead during the recent recession. "You freeze," says Meeker. "You just can't believe the entire country is failing."
[OR 0103] - Part 3: Adaptation & the Future (4:17)
Richard Meeker, publisher, Willamette Week, says Willamette Week focuses on creating excellent content. "If you've got the readers – somehow it will be financially sustainable," says Meeker. "If we stay intelligent, well-edited and thoughtful and fun, we'll connect with people," says Meeker. Willamette Week is now pondering the place for its journalism in the expanding mobile world. "How do you take a longer form of journalism that we do and go mobile?" asks Meeker.
[OR 0104] - Part 4: Digital Revenues (3:20)
Richard Meeker, publisher, Willamette Week, says his newspaper also earns revenue by staging events. "Our promotion department puts on events for advertisers on a regular basis, and we are using social media to get great audiences for all these activities." Meeker says, "We may get $250K on an [annual] budget of $4.5M -$5M," from digital sources. But the newspaper's focus remains steady: "We're going to continue to focus on the journalism, says Meeker, "and the means to get it out there will depend on where the world goes."
[OR 0105] - Part 5: Prospects & Preparation (1:23)
Richard Meeker, publisher, Willamette Week, thinks there will always be a market for good reporters. "I don't think journalism is going to go away. People are gossips and that's what really good news is – valid gossip, supported by a lot more than just the gossip." "We tell people what we do is fun," says Meeker, "and there will be fun in the other media enterprises as well."