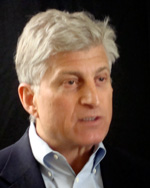 Mark Zusman
Editor & Co-Owner
Mark Zusman is the editor and co-owner of Willamette Week and The Santa Fe Reporter. Zusman has been editor of Willamette Week for 26 years. In 1986, Zusman was awarded the Gerald Loeb award for Business Journalism for an article he did about Nike.
Zusman is a past-president of the board of the Independent Media Institute and the board of the Association of Alternative Newsweeklies. He serves as a judge for the Payne Award for Ethics in Journalism. He has taught journalism at the University of Oregon and lectured at the Academy of Alternative Journalism at the Medill School of Journalism at Northwestern University. He is also a former fellow of the East-West Center.
[OR 0201] - Part 1: Intro and Contribution (5:17)
Mark Zusman, editor and co-owner of Willamette Week, started at the newspaper as a business reporter in 1980. Zusman says he is a "child of the 70s." For him "journalism was more than a career but was really a faith." Zusman says a key tenet of that faith is "speaking truth to power. That's the thing that really gets me most energized." Zusman wants Willamette Week "to be part of the city's dialogue." He is also seeking to deliver "the wow factor." "This paper should seek to amaze its readers," says Zusman.
[OR 0202] - Part 2: Ethics & Content (1:58)
Mark Zusman, editor, Willamette Week, says his newspaper is guided by a code of ethics espoused by Tom Rosentiel at the Project for Excellence in Journalism. Willamette Week uses a gatekeeper function for all e-mail submissions to its website. "We are very liberal," says Zusman, but an editor has to approve every post to the website.
[OR 0203] - Part 3: Strategic Changes (2:58)
Mark Zusman, editor, Willamette Week, says as a result of the Recession and resultant dips in advertising revenues, "we laid off 10 percent of our staff and everyone took an 8 percent pay cut, along with all the other newspapers in America." A reduced staff means more attention to priorities. We are now "in an environment where you have to think long and hard about how a reporter should spend his or her time throughout the day," says Zusman. There is also more multi-tasking, but it comes with some concern. "One worries that in the process of [multi-tasking] they are spending far less time being journalists," says Zusman.
[OR 0204] - Part 4: Adaptation & the Future (10:00)
Mark Zusman, editor, Willamette Week, says the Internet has added an important dimension to Willamette Week. "We can now compete with everyone," says Zusman. That paid off in 2004 when Willamette Week compiled a shocking story on former Oregon Governor Neil Goldschmidt and was able to post its story, online, in advance of its print publication date (Zusman tells the story in detail in his video interview). Zusman believes "the newspaper industry, as we have known it, is dying." And part of the problem is that the industry was "resistant to change."
[OR 0205] - Part 5: Prospects & Preparation (2:23)
Mark Zusman, editor, Willamette Week, says the three key skills for prospective journalists are: reporting, writing, and critical thinking. He stresses learning critical thinking skills: "The journalists of tomorrow are no longer going to be like the journalists of year's gone by – many of whom were stenographers," says Zusman.