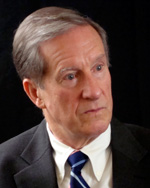 Richard Meeker
Publisher & Co-Owner
Richard Meeker has been Willamette Week's publisher since 1983, when he and Editor Mark Zusman formed City of Roses Newspaper Company to purchase the paper from the Eugene Register-Guard. Meeker started with the paper as a reporter at its founding in 1974 and became editor in 1977.
Meeker is a graduate of the University of Oregon School of Law (1974) and Amherst College (1970). He taught school for one year on Ocracoke Island on the Outer Banks of North Carolina. He grew up in Washington, D.C., where he got his start in newspapers in the seventh grade. Meeker is married to Ellen Rosenblum, a judge on the Oregon Court of Appeals. He and his wife have two children – Cate and Will.
[OR 0401] - The Story of Willamette Week: Richard Meeker, publisher, Willamette Week (5:36)
Richard Meeker, publisher and co-owner, Willamette Week, started at the newspaper before the first edition was published in 1974. Meeker says the weekly was started by Ron Buell -- a Portland, Ore., attorney -- as an alternative voice to the city's two daily newspapers. Meeker and Mark Zusman purchased the weekly in 1983 and re-christened it as a free newspaper, January 1984, significantly enlarging its distribution. In 2005, a Willamette Week reporter, Nigel Jaquiss, won a Pulitzer Prize for investigative journalism at Willamette Week for a story about former Portland, Ore., mayor and Oregon Governor Neil Goldschmidt.