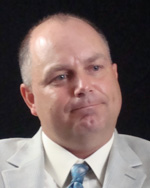 Korrie Wenzel
Publisher
Korrie Wenzel began his career at The Daily Republic as an 11-year-old carrier in his hometown of Wessington Springs, S.D. He joined the newsroom staff as a sports reporter in 1991 and later held various positions, including sports editor, assistant editor and editor. He was named publisher in 2010.
[SD 0101] - Part 1: Introduction & Contribution (6:14)
Korrie Wenzel, publisher, The Daily Republic, has been with the newspaper since 1991; he became publisher in 2010. Wenzel says The Republic's focus is: "Local coverage, local coverage and local coverage. We're here to write stories about this community, and this area, and the 17 counties that surround us," says Wenzel. "We're also someone who will fight the fights," says Wenzel. "If we feel the common man is being tread upon – I think we're quick to look into that," says Wenzel. To ensure his reporters are contributing to the newspaper's content, The Republic has instituted individual productivity goals "to ensure we are always writing." The goals have increased their staff's output by 30 percent, says Wenzel.
[SD 0102] - Part 2: Strategic Changes (3:22)
Korrie Wenzel, publisher, The Daily Republic, says the major change at The Republic is its commitment to expanding its online news output. "We are shoulder deep in that and happy to do it, " says Wenzel. The Republic is also benefitting from its commercial printing business. "We print six or seven weeklies and two monthlies for North Dakota," says Wenzel. Wenzel says The Republic also benefits from family ownership (Forum Communications, Fargo, N.D.). The Republic has had no layoffs in recent years. "There's not a lot of fat, " says Wenzel, "so there's not a lot of places to trim."
[SD 0103] - Part 3: Adaptation & the Future (3:52)
Korrie Wenzel, publisher, The Daily Republic, says his newspaper is placing more emphasis on the Internet, but its not ignoring its print editions. "We still believe that our print product is viable," says Wenzel. "Our circulation numbers show it is. In the last ten years, we've only lost 90-100 [print] subscribers, and we've gained 40-50 thousand readers, per month, online."
[SD 0104] - Part 4: Digital Revenues (2:25)
Korrie Wenzel, publisher, The Daily Republic, says most of his newspaper's digital revenues come from retail advertising. They also use 2-for-1 deals to stimulate their marketplace ads. In the short term, however, Wenzel expects a good return from its commercial printing arm, especially with regional weekly newspapers. "We're able to bring them in here. Treat them well. Make them feel welcome, and print their newspapers for them." That's been "an increasing stream [of revenue] for us in the last couple of years," says Wenzel.
[SD 0105] - Part 5: Prospects & Preparation (1:11)
Korrie Wenzel, publisher, The Daily Republic, says, candidates for jobs at The Republic "should come here wanting to be a leader." Wenzel doesn't mind his newspaper being a training ground. "We're a young newspaper," says Wenzel, "and we're happy to teach you. And we're proud as anything if you move on to a larger newspaper."