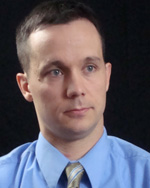 Seth Tupper
Editor
Seth Tupper was named editor of The Daily Republic in 2010. Before joining the newspaper in 2003, he worked nearly two years as the sports editor at the Worthington (Minn.) Daily Globe.
Tupper earned a bachelor's degree in journalism with a political science minor from South Dakota State University. While at SDSU, he was editor of SDSU's student newspaper, The Collegian.
[SD 0201] - Part 1: Introduction & Contribution (6:31)
Seth Tupper, editor, The Daily Republic, started at the newspaper in 2003 and was appointed editor in 2010. Tupper says his job is "a way of life for me, more than a career, because it's something that you can do that makes a difference in people's lives." Tupper says his newspaper is the place for debate in their community. "More than any other media, we are the place for the discussion of issues," says Tupper. "Being a forum for all the community conversation is the most valuable thing we bring to the community."
[SD 0202] - Part 2: Ethics & Content (5:52)
Seth Tupper, editor, The Daily Republic, says his newsroom follows the guidelines of Forum Communications' mission statement emphasizing: respect, integrity and responsibility. When that's not sufficient, he refers to the Society of Professional Journalists' code of ethics. Tupper says there is concern over the content of some anonymous comments that appear on The Republic's website, so the newspaper bans any reader comments on stories about children, high school sports, and courts and crimes. But otherwise, says Tupper, "It's a new world, and we just have to adapt to that as best we [can]."
[SD 0203] - Part 3: Strategic Changes (9:01)
Seth Tupper, editor, The Daily Republic, says his newspaper has adopted a greater urgency for reporting local news on its website. "The first thing we think now is, 'We've got to get this on the Internet,'" says Tupper. "We can compete with TV and radio operations in a way we never could," says Tupper. "Now that we have the tools, we can compete with them on a level playing field." With about 86,000 unique readers online, Tupper says, "I'm pretty confident that we have more readers today than in the 130 years of this newspaper."
[SD 0204] - Part 4: Adaptation & the Future (5:19)
Seth Tupper, editor, The Daily Republic, says his company is working to develop software for a new unified content management system. The newspaper is stymied by separate software systems for print, photos and its website. "The nature of our business has caused us to be fractured among all these systems," says Tupper. Looking forward he expects their website to grow. "I see more timely content being added to the website," says Tupper.
[SD 0205] - Part 5: Prospects & Preparation (4:16)
Seth Tupper, editor, The Daily Republic, says to get a job in a newspaper you need "a command of English … a burning curiosity about everything that's going on, an ability to ask questions and a desire to find the answers." Tupper also believes working for a college newspaper is vital: "Surround yourself in that and swim in it," says Tupper. "I got to make all … my dumb mistakes in college when -- quote unquote – it didn't matter."