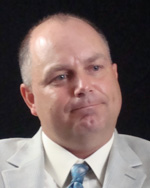 Korrie Wenzel
Publisher
Korrie Wenzel began his career at The Daily Republic as an 11-year-old carrier in his hometown of Wessington Springs, S.D. He joined the newsroom staff as a sports reporter in 1991 and later held various positions, including sports editor, assistant editor and editor. He was named publisher in 2010.
[SD 0401] - The Story of The Daily Republic (3:45)
Korrie Wenzel, publisher, The Daily Republic, says the newspaper started in 1879 "through several names and different weeklies" but a key point was the purchase of the newspaper, in 1909, by Roy Ronald, who was a crusader for farm legislation. The Ronald family controlled The Daily Republic until 1965, when Thomson newspapers purchased it. Thomson sold it to Forum Communications, Fargo, N.D., a regional media firm, in the mid-1990s.