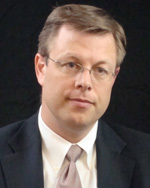 Clark Gilbert
President and CEO
Clark Gilbert is the president and CEO of the Deseret News Publishing Company and Deseret Digital Media. Prior to DDM, Gilbert was an associate academic vice president at Brigham Young University–Idaho, where he oversaw the university's online learning and distance education initiatives. He was also a professor of entrepreneurial management at the Harvard Business School and has a background in media innovation.
At the Harvard Business School, Gilbert published numerous award-winning articles on innovation, including lead articles in the Harvard Business Review and MIT/Sloan Management Review. Gilbert has served on the New Ventures Boards at Landmark Media and Scripps Publications. He was a founding partner of Boston-based consultancy Innosight, where he built an advisory practice with media and healthcare clients targeting disruptive innovation.
Gilbert graduated from Brigham Young University. He earned a master's degree from Stanford University and a doctorate degree from the Harvard Business School.
[UT 0101] - Part 1: Intro and Newspapers (7:44)
Clark Gilbert, president & CEO, The Deseret News and Deseret Digital Media, became CEO of Desert Digital Media in 2009 and The Deseret News in 2010. Gilbert brings to The News a wide newspaper industry perspective based on his research, examining disruptive innovative challenges as a doctoral candidate at the Harvard Graduate School of Business Administration, and his subsequent work as one of the lead authors of the American Press Institute's landmark media study – "Newspaper Next: The Transformation Project." Gilbert boldly challenges what he sees as newspaper industry thinking about business practices and freedom of the press. "I find that most journalists are thrilled with freedom of the press as long as it's them in control of it," says Gilbert. Gilbert explains The News' six areas of editorial emphasis and outlines some of the key problems facing the newspaper industry in the digital age.
[UT 0102] - Part 2: Contribution (6:27)
Clark Gilbert, president & CEO, The Deseret News and Deseret Digital Media, says The News is using 1,000 citizen journalists, assembled in what it calls "Deseret Connect" to supplement its coverage. "We use our news room to cover big topics, big events … big games, but we leverage Deseret Connect to cover many other stories." "We think that's just a powerful and wonderful commitment we've made to the community and the community's responded," says Gilbert. One of The Deseret News' new emphases is faith and the family. "We think that traditional faith is being crowded out of the public discussion in this country," says Gilbert. "We have expanded the voice of news and journalism to a much broader audience," says Gilbert. Gilbert says Deseret Connect also draws upon expertise from its contributors to provide "a broader and fuller picture" of the news. "It's one of the reasons our website has grown so rapidly," says Gilbert.
[UT 0103] - Part 3: Strategic Changes (10:20)
Clark Gilbert, president & CEO, The Deseret News and Deseret Digital Media, says his newspaper cut its "workforce" by 40 percent in August 2010. To compensate, The News has beefed up its six focus areas and added contributions from its Deseret Connect contributors. "We have cut costs in places like features … we complemented it with Deseret Connect, which has actually expanded the number of features we have," says Gilbert. The News also has combined its staff's coverage with the coverage of the co-owned KSL radio and KSL-TV news staffs, so the Church of Jesus Christ of Latter-day Saints-owned companies use "one reporter instead of three" to cover local breaking news, says Gilbert. Gilbert believes focusing on key coverage issues like faith and the family will differentiate The News and deliver it readers. "In the Internet, if you're not the best in the world, you're a click away from someone else," says Gilbert.
[UT 0104] - Part 4: Adaptation & the Future (5:02)
Clark Gilbert, president & CEO, The Deseret News and Deseret Digital Media, says, "Newspapers need to become 'learning organizations.' They've worked with a model that's been fixed for 50 years and it hasn't changed," says Gilbert, "and that can really limit your ability to learn and adapt." Gilbert has high expectations for the revenue impact of a newspaper's Internet distribution. "By 2012 you should have 25 percent of your revenue coming from online and 50 percent of your profit," says Gilbert. Gilbert also predicts a profitable future for printed newspapers, but with reservations. "I think print has some compelling features to it that will make it last for a little season," says Gilbert. But "only if they learn to define and differentiate themselves. If you want to be a general, generic news organization covering all topics and all things – that model is not going to last very long."