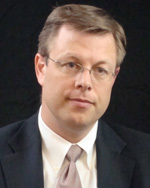 Clark Gilbert
President and CEO
Clark Gilbert is the president and CEO of the Deseret News Publishing Company and Deseret Digital Media. Prior to DDM, Gilbert was an associate academic vice president at Brigham Young University–Idaho, where he oversaw the university's online learning and distance education initiatives. He was also a professor of entrepreneurial management at the Harvard Business School and has a background in media innovation.
At the Harvard Business School, Gilbert published numerous award-winning articles on innovation, including lead articles in the Harvard Business Review and MIT/Sloan Management Review. Gilbert has served on the New Ventures Boards at Landmark Media and Scripps Publications. He was a founding partner of Boston-based consultancy Innosight, where he built an advisory practice with media and healthcare clients targeting disruptive innovation.
Gilbert graduated from Brigham Young University. He earned a master's degree from Stanford University and a doctorate degree from the Harvard Business School.
[UT 0401] - The Story of Deseret News (2:32)
Clark Gilbert, president & CEO, The Deseret News, tells the story of The Deseret News, which was started in 1850 when the Mormons arrived in the Salt Lake Valley. "They started a university, built a temple and started a newspaper," says Gilbert. The Deseret News is now "the oldest continuously-run business in Utah," although it operates under a joint operating agreement with the Salt Lake Tribune. Its first editor was Willard Richards, a cousin of Brigham Young, who became a Mormon apostle. Looking forward, Gilbert says, "Certainly the Internet will be a defining point in our history."