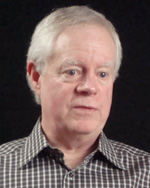 Frank Blethen
Publisher
Frank Blethen, publisher of The Seattle Times, is a member of the fourth family generation. There are ten members of the family's fourth and fifth generations active in the journalism company's management and governance.
Blethen is a strong advocate for independent journalism, family–owned businesses, and a long–time active participant in the national grass–roots movement in opposition to newspaper and media ownership consolidation. In recognition of Frank's leadership on behalf of quality journalism, he was the first publisher awarded the American Society of News Editors' News Leadership Award.
[WA 0101] - Part 1: Intro and Contribution (8:27)
Frank Blethen, publisher, The Seattle Times, started at the newspaper in 1968 and became publisher in 1985. Blethen says he was drawn to the newspaper by his family connection, then discovered he was "doing something that fits my personal interests and my personal values." Blethen says The Times "connects people to their community." "In today's world," says Blethen, "if you don't have some sense of connection to your community, you have a different kind of community. There is a dying need for great journalism vetted by some professionals."
[WA 0102] - Part 2: Strategic Changes (8:50)
Frank Blethen, publisher, The Seattle Times, says the first decade of the 21st Century was a struggle for The Times, starting with a strike in 2000, the ramifications of the Joint Operating Agreement with The Seattle Post-Intelligencer, struggles with the PI's parent company Hearst, and meddling from The Times ownership partner, Knight- Ridder. In 2011 those complications are gone, and The Times is still aiming to succeed on the quality of its news reporting. "We drove a stake in the ground," says Blethen, promising good delivery service and good journalism. "We did not give up on our mission."
[WA 0103] - Part 3: Newspapers' Business Picture (3:19)
Frank Blethen, publisher, The Seattle Times, sees a positive future for newspapers. "The fact is that newspapers are not dying," says Blethen. "Newspapers are highly profitable on a cash-flow basis." The main problem, says Blethen, is that newspapers "can't sustain the debt that investors larded up on them."
[WA 0104] - Part 4: Adaptation & the Future (4:58)
Frank Blethen, publisher, The Seattle Times, says painting the newspaper industry's main hope as its conversion to digital news distribution is "overblown hype." "Technology is important to us," says Blethen, "but you can't be a captive of [it]. When this [-- digital news products --] is only 10 percent of your business, you just can't dump all your resources into it." "What a lot of newspapers need to be doing," says Blethen, "is putting more resources into the quality of their news product and the size of their published product."
[WA 0105] - Part 5: Prospects & Preparation (1:23)
Frank Blethen, publisher, The Seattle Times, believes dire predictions about the collapse of newspapers are unfair and lack context. "Name me a business that is not at risk or uncertain," says Blethen. He also believes that newspaper careers offer a key upside – "It's one of the few places you can go today that has a public service mission," says Blethen.