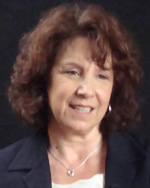 Suki Dardarian
Managing Editor (Curation)
Suki Dardarian is one of two managing editors at The Seattle Times. In early 2011 she was appointed to oversee print and digital "curation" – editing, design and production – as well as seattletimes.com.
Dardarian joined The Times in 2000 as an assistant managing editor for metro news. She later became deputy managing editor and then managing editor, initially supervising news coverage – including local and business news, investigations, sports and features. She is a former president of the Associated Press Managing Editors, a national organization of editors whose newspapers are members of the AP. She has served twice as a Pulitzer juror.
[WA 0301] - Part 1: Intro and Contribution (9:15)
Suki Dardarian, managing editor, The Seattle Times, started at the newspaper in 2000. Dardarian says she pursued journalism to "be able to analyze and take things apart, … to help ferret out the truth, … to help tell stories, … and to raise hell a little bit." In addition to providing a watchdog function, Dardarian says The Times helps Seattle by "being a partner with our community in building where we live." Dardarian was saddened when The Seattle PI stopped publishing. "It's great to have a lot of journalists in a community," says Dardarian.
[WA 0302] - Part 2: Skills (6:31)
Suki Dardarian, managing editor, The Seattle Times, says the skills she uses mostly while overseeing the newspaper's digital platforms are "the skills that endure – ethics, and values, and truth-telling and a commitment to the community." And she often poses this question – "What else does this story need to really serve this community?" "Engaging with the community is the ultimate goal," says Dardarian.
[WA 0303] - Part 3: Adaptation & the Future (4:27)
Suki Dardarian, managing editor, The Seattle Times, says, "Digital [news delivery] is critical and it is something we are all embracing now." But, she says, "I see a role for print. I think there is true value in being able to hold something and say, 'This is what's been distilled from yesterday.' And the world stops for a moment, and I can hold it, and I can cherish it or sob over it. And I can fold it carefully and put it in a box somewhere. Or I can rip it up and scribble on it – and there's some value in that."
[WA 0304] - Part 4: Preparation (1:46)
Suki Dardarian, managing editor, The Seattle Times, says candidates for newsroom jobs need to learn to "use their brains and think through what the story is." And "if they engage their curiosity, they'll thrive," says Dardarian.