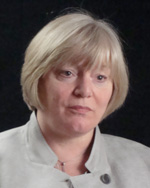 Kathy Best
Managing Editor (Creation)
Kathy Best joined the Seattle Times in February 2007 as managing editor for digital news. In March, she became managing editor in charge of content creation, working on stories with reporters, editors, photographers and videographers throughout the newsroom.
Before joining the Times, Best was the assistant managing editor for Sunday, national and foreign news at The Sun in Baltimore. She was assistant managing editor/metro at the St. Louis Post–Dispatch and at the Seattle Post–Intelligencer.
[WA 0305] - Part 1: Intro and Contribution (6:27)
Kathy Best, managing editor, The Seattle Times, has been at The Times since 2007. Recently, she had been in charge of The Times website before she was promoted in 2011 to managing editor, "content creation." Best says, we must "reflect that fact that we need to be an integrated newsroom [print and digital] -- where we are thinking about the best way to report and deliver stories on multiple platforms." We also need "to show our community we are the kind of watchdog that our community needs," says Best.
[WA 0306] - Part 2: Skills (3:13)
Kathy Best, managing editor, The Seattle Times, says today's journalist must remember – "You're not just writing for a newspaper anymore." "You've got to be willing to change," says Best. "You've got to be willing to experiment and fail. But fail fast." And "no matter what the platform – you've got to get it right and you've got to be fair."
[WA 0307] - Part 3: Adaptation & the Future (4:32)
Kathy Best, managing editor, The Seattle Times, says, "If you want to have a future … you have to understand [the digital news] audience and those needs." Best foresees a day when digital news delivery could eliminate the need for newsprint. "But I don't know when," she says. She thinks there may be a time when "what we deliver in print becomes a niche product."
[WA 0308] - Part 4: Prospects (1:52)
Kathy Best, managing editor, The Seattle Times, says to succeed in journalism today "you must be fast, accurate, a good writer and endlessly curious." And to get a job at The Times you need to "be so good that you can convince us that we can't exist without you."