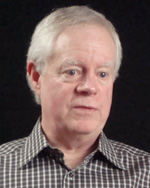 Frank Blethen
Publisher
Frank Blethen, publisher of The Seattle Times, is a member of the fourth family generation. There are ten members of the family's fourth and fifth generations active in the journalism company's management and governance.
Blethen is a strong advocate for independent journalism, family–owned businesses, and a long–time active participant in the national grass–roots movement in opposition to newspaper and media ownership consolidation. In recognition of Frank's leadership on behalf of quality journalism, he was the first publisher awarded the American Society of News Editors' News Leadership Award.
[WA 0401] - The Story of The Seattle Times: Frank Blethen, publisher, The Seattle Times (8:53)
Frank Blethen, publisher, The Seattle Times, says The Seattle Times was a failed weekly purchased by Alden Blethen in 1896. In 1930, the Ridder brothers became partners with the Blethen family, which in 1950 formed the Blethen Corporation to perpetuate family control. Also in 1950, a Times reporter, Edwin Guthman, earned the newspaper's first Pulitzer Prize. The paper has earned a total of eight Pulitzers through 2011. The Times formed a joint operating agreement with the Hearst-owned Seattle Post-Intelligencer in 1985, which was severed when the PI ceased publishing in 2009. The Times current business partner is McClatchy Newspapers, which purchased Knight-Ridder in 2006. Frank Blethen tells the story of The Times' perilous financial period in 2008 and 2009 when The Times struggled with Hearst for newspaper dominance in Seattle, which ended when Hearst converted the PI to an online-only newspaper.