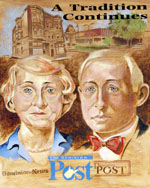 The Story of The Dominion Post
"Greer Industries was founded in 1917 by Herbert C. Greer and Agnes Jane Reeves Greer," according to www.greerindustries.com. "Greer Industries began it's rise to success amidst trying times. The year was 1917. Woodrow Wilson was President and the country had just entered World War I. Despite the turmoil of the day, Herbert C. Greer and Agnes Jane Reeves Greer set out to create a business that would be built on hard work, vision and innovation. Today, Greer Industries Inc. is a thriving company that oversees numerous other successful divisions spanning a fascinating range of industries including: mining, steel, tourism, recreation and broadcasting."
Greer industries started the West Virginia Newspaper Publishing Company, which purchased the Dominion Post, in 1923, according to The Dominion Post website. The Greer's grandson, David Raese, a co-owner and the publisher of The Dominion Post, provides more details about the newspaper's history.
[WV 0401] - The Story of the Dominion Post (1:36)
David Raese, co-owner and, publisher, tells how his grandparents, who were in the mining business, purchased both Morgantown's Democratic and Republican-oriented newspapers in the 1930s and later merged them into The Dominion Post.