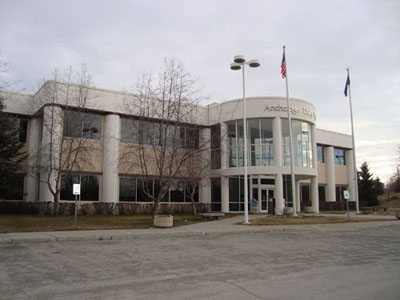 The Anchorage Daily News moved into its current headquarters at 1001 Northway Drive in Anchorage Alaska in June 1986.
Summary
The Anchorage Daily News (ADN) has risen in prominence from humble beginnings as a weekly newspaper in the 1940s through several iterations to become the leading newspaper in Alaska. As of April 2010, the ADN reported a daily circulation of 57,622 and a Sunday circulation of 63,851. The ADN is part of the McClatchy Newspapers group.
Like many U.S. newspapers, the ADN was adversely affected by the 2009 recession; as a result it initiated substantial staff reductions. The ADN reported a newspaper-wide, 17 percent staff cut in March 2009, and it now operates with 45 full-time people in the newsroom. But in an interview with us in April 2010, the publisher, J. Patrick Doyle, said, "A year ago it looked pretty tough, but now I think we have a good plan for fiscal stability."
Part of Doyle's confidence reflects the newspaper's growing website circulation, a successful partnership, listing local advertisers with the Yahoo search engine, and an e-mail news alert service that reaches more than 30,000 users.
So far, ADN has not erected a paywall for its website. Instead the newspaper's goal is to make the website so compelling that it attracts readers/viewers of all ages.
Check This
In our report, in addition to watching the publisher, J. Patrick Doyle's, update on the status of the newspaper, the editor, Pat Dougherty, a 30-year veteran of the ADN, reflects on the contributions this Pulitzer-prize-winning newspaper makes to its community and the future of the newspaper industry. And Julie Wright, former managing editor and now general manager online advertising, discusses the process of the news staff becoming multi-media journalists. More background data on the newspaper's resources and activities is available in the Backgrounder PDF attached to this report, and we've included the URLs for several recent enterprise stories that show off ADN reporters' work.
-- Sara Brown and Paul Steinle