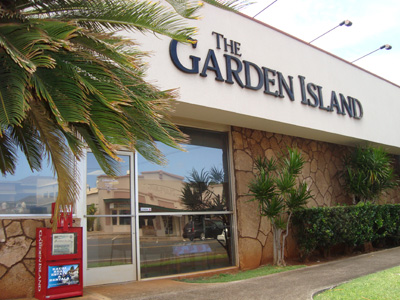 The Garden Island, a Lee Enterprises newspaper, is located at 3137 Kuhio Highway, Lihu'e, Kaua'i, Hawaii.
Summary
The Garden Island, (circ. 9,367) in Lihu´e, Kauai, Hawaii is the westernmost daily newspaper in the United States. Kauai's more than 60,000 full-time residents are diverse, says Managing Editor Nathan Eagle: "One-third Caucasian, one-third Filipino, and one-third Japanese/Hawaiian." Add 20,000 visitors at any given point -- tourism is Kauai's largest industry -- and serving their readers and visitors becomes both an opportunity and a challenge.
"We've been grappling," says Eagle, "with how do we keep our print edition alive while maintaining online readership as well." Thegardenisland.com generates more than one million page views per month, but online ads and fees make up only 4 percent of The Garden Island's revenue. (Click on Backgrounder)
"At first, we would post the first few paragraphs of stories online and tell readers to see the next day's print edition for the full story," says Eagle. Some readers said they liked that, but with limited resources, the newspaper found that hard to do and no one commented when it stopped.
The newspaper's strategy now is to emphasize local news in their print edition. The newspaper "rid the front page of check-passing and grip-and-grin photos," Eagle says, and fills it with 90 percent local, "must-have" information. Eagle balances everyday beat assignments with enterprise stories. Dennis Fujimoto, long-time photographer and staff writer, stresses the need for occasional "light heartedness." His "Happy Camper" column has international readership.
Check This
Journalism professors and students, be sure to watch Eagle's interview, part 2 Ethics and Content, for a passionate endorsement of ethical journalism and watch I.T. Web Supervisor, Richard Stein's interview, part 2 Web News & the (3/11) Japanese tsunami. Stein says, "We used the tool [the website] like it was meant to be used…"
Click on Journalist's Epiphanies (J-Epiphanies) on the toolbar to learn when the power and purpose of journalism became clear to Eagle, Stein and Fujimoto. Also, click on Bonus Interviews to hear industry gurus' thoughts on the status of the newspaper business. We'll be adding more bonus interviews in the next several weeks.
Coming Next in the Pacific Coast series: Willamette Week (Portland, Ore.), and The Seattle Times. Follow us and comment on Facebook.
-- Sara Brown and Paul Steinle