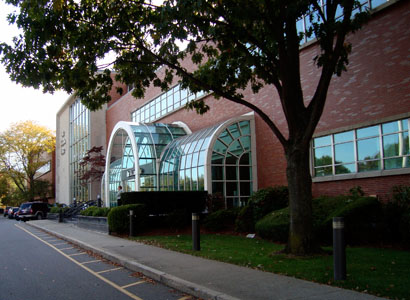 The Boston Globe's editorial offices, business offices and printing plant reside at 135 Morrissey Blvd., Boston, Mass.
Boston Globe -- Summary
2009 was a difficult year for The Boston Globe, the 4th newspaper visited in our sweep through New England. The New York Times, The Globe's parent company, was considering selling it. Participants in the "Who Needs Newspapers?" report are asked to imagine what the impact would be on their community if their newspaper were to close. Christopher Mayer, the Globe's publisher, didn't have to imagine, he had heard from the community that if The Globe went away, it would be missed and there would be a void.
The Globe wasn't sold, and over the last couple of years it has undergone considerable change. It has streamlined its operations, restructured deadlines and closed one printing plant. The Globe reduced costs to better support its journalistic mission and its advertisers. Its most successful change, says Mayer, was an expanded ability to collect news and a "reaffirmation of storytelling," in both print and digital. With "50 percent penetration through print and digital" says Mayer, The Globe is "reaching more people than it ever has."
But, according to Mayer, "advertising revenue isn't enough" to support the quality and depth of news- gathering The Globe wants to provide. (See Enterprise Stories and the news section of the Backgrounder for the range of coverage found in The Globe.)
Among their initiatives to address the revenue shortfall, in 2011 The Globe will introduce a second paid website, Bostonglobe.com, to accompany its free Boston.com site. Bostonglobe.com will be aimed at a "digital audience looking for deeper analysis and storytelling," says Mayer.
Editor, Martin Baron, echoes the emphasis on digital news delivery. "We have tried to turn ourselves into a true [24/7] multi-media news organization with web and print being equally important." The Globe is becoming expert at video, and finds it much easier to provide hyper-local coverage for 43 communities on the web than in print. Mayer describes The Globe's market as highly supportive of multi-media news. We are, "the number one readership market in the country and the second highest 'wired' marketing behind San Francisco," says Mayer.
Check This
"Some things haven't changed --- our core standards of journalism," says Editor, Baron. Listen to Baron describe an example of the Globe's role in holding government [the state probation department] accountable and a detailed description of The Globe's guidelines for when they make an online story interactive. Mayer gives details of strategies for gaining revenue from digital products, and Bennie DiNardo, deputy managing editor for multi-media, tells journalists "don't be afraid of digital tools. Think of them as an evolution of what newspapers have been doing for 100-200 years."
Click on J-Epiphanies on the toolbar to hear Mayer, Baron and DiNardo describe a time when the power and purpose of journalism became clear to them.
Click on Bonus Interviews to hear Randy Bennett, Sr. V.P. Business Development, Newspaper Association of America, discuss the revenue picture for U.S. newspapers.
Coming next in the New England series: The (New London, Conn.) Day and The Providence (R.I.) Journal.
-- Sara Brown and Paul Steinle