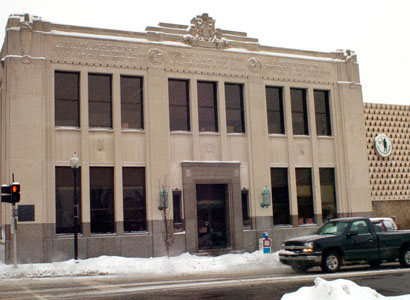 The Jackson Citizen Patriot has operated from this building, 214 S. Jackson St., Jackson, Mich., since the building was completed in 1926.
Summary
"Nimble, flexible, and adaptable" is the mantra at the Jackson (Mich.) Citizen Patriot. Addressing the Citizen Patriot's declining circulation and advertising revenue, in a state and town that's been depressed for 10 years, called for drastic measures. It was time to make changes that were easy to put off when the economy was better.
Last year every department was restructured; management was flattened. Circulation is managed by two full-time employees, routes have been restructured and youth carriers have been eliminated. Publisher Sandy Petykiewicz took on the role of editor & publisher when the newspaper's editor retired, and on a daily basis the newsroom is managed by a news content editor and a print/web production editor. Reporters were divided into four teams: Cops & Courts, Entertainment, Health & Business, and Watchdog.
The culture of the newsroom changed. The staff "gets it now," says Associate Editor, Content, Sara Scott. Every job encompasses new media, Flip video, and stories sent on the fly over netbooks. This "put us back in the breaking news game," says Scott, "and the staff is energized by it."
"We elevate good [e-mailed reader] comments and good stories that have multiple layers," says Associate Editor, Print & Online Production, Jerry Sova, to make it easier for users to keep track of the unfolding of a breaking story. These changes are bringing big increases in online traffic. They average one million page views a month on their MLive.com website.
On the ad side, Petykiewicz says digital specialists are working with ad reps and advertisers to capitalize on the power of their audience. (There is no TV station in Jackson and the Lansing station covers them sparingly.) Petykiewicz says The Citizen Patriot reaches 70 percent of all adults in its market with a combination of print and digital products.
Check This
Sandy Petykiewicz is proud of the charitable work the "Cit-Pat" does. Their "Warm the Children" campaign raised $50,000 last year for new, warm children's clothing. Columnist Brad Flory wrote a story about the lack of food at the food bank and promised to donate the cost of one lunch a week to the cause. The community responded in-kind, and "Brad's Lunch Bunch" has raised $200,000 for the food bank.
When the price of the newspaper was increased $0.25 a day (to $0.75, daily, and $1.75, Sunday), single copy sales took a hit. "I didn't realize how price sensitive that was," says Petykiewicz. But later, when they considered the alternative of raising home delivery $0.80 a month or cutting Saturday delivery, they gave readers an option. Listen to Petykiewicz's interview to see what happened.
-- Sara Brown & Paul Steinle