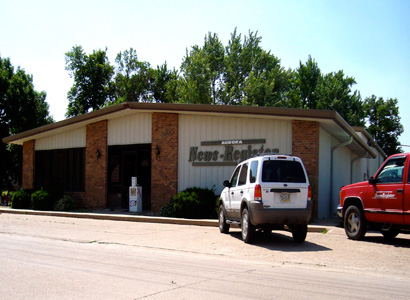 The Aurora News-Register operates out of this office at 1320 K St., Aurora, Neb.
Summary
Kurt and Paula Johnson wanted to buy a weekly newspaper with adequate resources to produce special reporting projects in a growing community. Their dream came true in 2000 with their purchase (see Story of the Newspaper) of the Aurora (Neb.) News-Register (3,000 circ.), a newspaper that 91 percent of respondents, in a 2010 survey conducted by University of Nebraska-Lincoln, said would likely be read to get news about Aurora†. (Click here to read "A Study of Aurora Residents' News and Information Gathering")
Co-Publisher Kurt Johnson says he likes to "take issues that are really relevant to the community and explain them." When the Nebraska Public Power District published its Economic and Demographic Trends Report, Johnson and Managing Editor Laurie Pfeifer decided to run a series to help their community understand critical local trends. They focused on issues such as "retail leakage" and "workforce commuting patterns" -- people who live in the area but work or shop elsewhere. (Click on Enterprise Stories.)
When the News-Register's report received some negative feedback, such as "You're stirring the pot," Johnson thought a better approach would be for the town to focus on why these trends were occurring and what it could do about them. Johnson believes his newspaper should take an active role in community leadership. "I think it's important in a town like this that the newspaper just not be an observer, but involved in helping the community move forward," says Johnson.
Check This
In 1995, the News-Register was the first weekly paper in Nebraska to post a website, according to Johnson. The newspaper upgraded auroranewsregister.com two years ago with capability for video and mobile delivery (when it is ready to introduce them). In the meantime, the newspaper has had success selling ads with Soundslides -- digital audio and photo files, which it has used on its website for reporting disasters, sports and special events.
Johnson believes his newspaper's "franchise" is its credible content both in print and online. He has a low regard for Internet blogs -- "it takes more credentials to buy a fishing license than it does to post a website," he says. "Not everything on the web is accurate or credible, so the content and credibility we bring to our community is the franchise." While "print is still our bread and butter," Johnson is aware that his daughter's generation has different tastes, and he plans to adapt to address them.
Click on Journalists' Epiphanies (J-Epiphanies on the toolbar) to hear stories about when the power and purpose of journalism became clear to Johnson and Pfeifer.
Coming Next in the Plains States series: The (Cedar Rapids, Iowa) Gazette and the St. Cloud (Minn.) Times. Please follow us and comment on Facebook.
-- Sara Brown and Paul Steinle
† This study was conducted in 2010 as part of a graduate Mass Communication Research course taught in the College of Journalism and Mass Communications at the University of Nebraska-Lincoln by Dr. Linda Shipley. Dr. Shipley and her graduate assistant, Sarah Van Dalsem, analyzed the data. The Strategic Discussions for Nebraska sponsored the study.