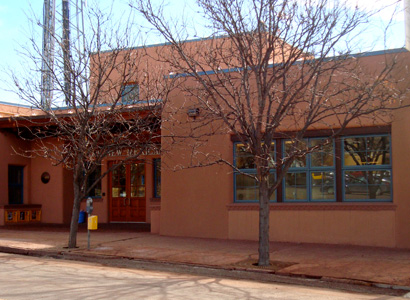 The Santa Fe New Mexican is located in a remodeled facility at 202 E. Marcy St., Santa Fe, N.M.
Summary
"What is the new business model [for newspapers]? is the wrong question," says Henry M. Lopez, digital development manager for the Santa Fe New Mexican. Lopez says the more appropriate question is, "What are the new business models?" If business models were fighters, says Lopez, they would be "fly weights with quick little revenue streams."
In 2008, in the heart of the recession, the New Mexican faced serious declines in revenue, says Associate Publisher Ginny Sohn. That prompted a serious re-examination of the newspaper's priorities and goals in light of its mission to "Do good journalism and cover the local news." The newspaper developed a new allocation system so it could see more quickly what was profitable and what was not. It developed a strategy to cut costs without damaging its content. "Do what we do best and live within our means," became the newspaper's mantra. And, it developed new revenue streams through:
Ads on website: home page ads, wallpaper ads, e-mail blasts for advertisers
"Splurge" -- its deal of the day
Expanding its magazine division because magazines do well in Santa Fe
Investment in a glossy press so it can print magazines for itself and customers
Printing and delivering The New York Times in New Mexico
Commercial printing
Direct mail
Increasing readership and circulation
"Opportunities walk by everyday and you can't let them keep walking," says Sohn. Eventually everything may be digital, she says, but the newspaper still sees a strong print need. Newspapers "stick," says Sohn. (Click on the Backgrounder to see information on staffing, revenue and technology.)
Check This
Managing Editor Rob Dean describes The New Mexican and its reporting staff as being "of" Santa Fe. Its Owner/Publisher Robin McKinney Martin lives in Santa Fe and is actively involved in the community. (Click on Story of the Newspaper) The newspaper has held firm to its goal of enterprise reporting. (Click on Enterprise Stories which includes their series on child protection.) Click on the Ethics section of Dean's interview to learn more about how the newspaper developed its current code of ethics, including a forthcoming section on new media.
Click on J-Epiphanies to hear stories of when the power and purpose of journalism became clear to Sohn, Dean and Lopez.
Coming Next in the Western States series: The Navajo Times and The Las Vegas Sun.
Follow us and comment on Facebook.
-- Sara Brown and Paul Steinle