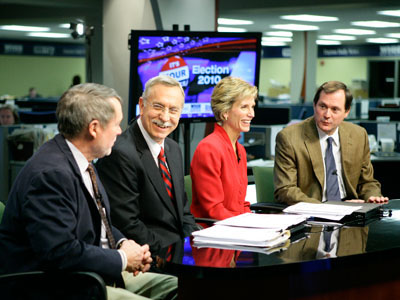 On the newsroom set during a live election television show in November 2010: Bill Hershey, Dayton Daily News, statehouse reporter; Jim Barrett, WHIO radio; Cheryl McHenry, WHIO television; and Jack Torrey, Dayton Daily News, Washington reporter (DDN photo).
Summary --- Dayton Daily News
"The silos are gone now," says Harry Delaney, about the convergence of the Dayton Daily News with WHIO-TV and WHIO-radio into "one large news community." Delaney, Sr. VP news & content, Cox Media Group Ohio – the internal name for the merged news entity – believes this is the most dramatic change in the newspaper's 102-year history. In the summer of 2010, The Dayton Daily News was also adding new radio studios and the market's first HD television news studio to its flagship building.
"CMG Ohio is the local media model of the future," Delaney told TVNewsCheck, "and, by joining together to build stronger individual brands, our content collaboration will give the audience and the advertiser a better product and value."
News management and ad sales have been reorganized. In addition to the oversight from CMG Ohio, the merged news operations – print, TV and radio – are retaining their managing news editors. In past years, advertising sales reps from print, TV and radio had not been too successful in collaboration, according to Delaney, but "We're in a learning process here, taking it slowly, and learning how to collaborate," said Delaney.
Kevin Riley, editor of the Dayton Daily News, identified the newspaper's three critical goals as: (1) maintaining an urgency to be "first and best" on its website; (2) continuing hyper-local coverage with emphasis on "key communities," (places where "we should have strong readers," because if we don't do well with them, said Riley, we won't do well in other places); and (3) developing new research to refine their coverage. Riley thinks broadcasters have done a better job than print of understanding their audiences, so he sees convergence as an avenue for tapping into more sophisticated readership research.
One of the newspaper's least successful experiments was a "Dashboard" – a complicated system for tracking website activity. The newspaper got too bogged down in multiple statistics and now does a "lighter version" of tracking, said Riley.
Check This
Because digital issues touch every department, Ray Marcano, director of digital strategy, CMG Ohio, explains why he thinks "people and project management skills" are essential for online managers. Kevin Riley, Dayton Daily News editor, spells out the reasons a person, trained as a journalist, has marketable skills no matter whether print endures or steps aside for a digital future.
-- Sara Brown and Paul Steinle