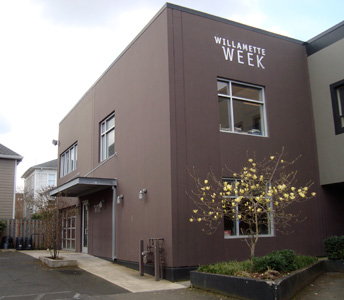 The offices of the alternative newspaper, Willamette Week, reside in this taupe-colored building at 2220 N.W. Quimby St., Portland, Ore.
Summary
Our goal has been to visit a variety of newspapers in the mix of the 50 selected for our "Who Needs Newspapers?" report. For that reason we selected an alternative paper -- Willamette Week (WW - 90,000 circ.) -- a free-distribution, alternative weekly in Portland, Ore.
WW has a reputation for publishing memorable, long-form investigative reporting. WW and its reporter Nigel Jaquiss won the 2005 Pulitzer Prize for Investigative Reporting for: "The 30-Year Secret" -- a story about a former Oregon governor. (See the champagne celebration picture above.) The prize was also notable because the story was "published first on the Web," according to Editor and co-owner Mark Zusman. (See Enterprise Stories for "Elizabeth Lynn Dunham: May 12, 1961---Jan. 16, 2011," a follow-up to "The 30-Year Secret.")
Publisher and co-owner Richard Meeker says he and Zusman aren't in this business solely for the money: "We don't run at a high profit margin." The owners are pleased with a 5 percent margin, says Meeker. His philosophy is that if the newspaper provides its audience with well-edited news, arts and entertainment reporting, the business will be financially sustainable. "We think it should be fun, and we think design is a tremendously important aspect of this," says Meeker. If WW is "well edited, thoughtful and fun," says Meeker, "we'll connect with people."
Zusman adds that WW seeks to provide a "wow factor" on the news side and "active intelligence" about the events that take place in Portland. Personally, for Zusman journalism is "more than a career; it's really a faith," he says.
Check This
WW has developed a key strategy to augment print and online advertising income: 17 percent of its total revenue (see Backgrounder) comes from producing public arts, culinary and entertainment events such as MusicfestNW and EatMobile, a Portland food cart festival (see picture above). The owners describe the staging of these events as a benefit of the newspaper's ability to "aggregate our audience" through print, online, and social media promotion.
Click on Journalist's Epiphanies (J-Epiphanies) on the toolbar to learn when the power and purpose of journalism became clear to Meeker and Zusman. Also, click on Bonus Interviews to hear industry gurus' thoughts on the status of the newspaper business. We'll be posting more bonus interviews in the next several weeks.
Coming Next in the Pacific Coast series: The Seattle Times. Next, the Mountain States series: The Coeur d'Alene (Idaho) Press, The Bozeman (Mont.) Daily Chronicle, The Jackson Hole (Wyo.) News & Guide, The Deseret News (Salt Lake City, Utah), and The (Grand Junction, Colo.) Daily Sentinel.
Follow us and comment on Facebook.
-- Sara Brown and Paul Steinle