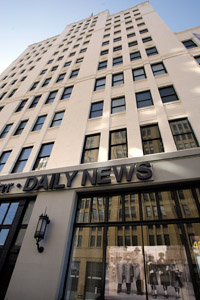 The Philadelphia Daily News operates from the building it shares with the Philadelphia Inquirer at 400 N. Broad Street in Philadelphia, Pa.
Summary
"We dig deeper," says Michael Days, editor of the Philadelphia Daily News. Its digging won the paper a 2010 Pulitzer Prize for investigative reporting.
The News is a scrappy, 90,000 circ. daily tabloid, with no intention of being the paper of record in Philadelphia. The News leaves that designation to its sibling paper, The Philadelphia Inquirer. Instead, The News tenaciously holds on to its niche as Philly's "people's paper." The News' editors have prioritized their coverage and focus on what they believe their readers are most interested in: education, sports, politics, and celebrities. Yes, "we unabashedly do gossip," says Days.
The News and Inquirer have had multiple owners (See the Story of the Newspaper.) When these interviews were conducted in September 2010, The News was finalizing with its unions its purchase by the Philadelphia Media Network, Inc. The Philadelphia Daily News has been, "folding for all of its existence," says Days. But, he adds, "If we're connected to what readers are interested in, we'll continue to thrive."
Wendy Warren, vice president and editor of philly.com (the website for the News and Inquirer), and a News editor before taking the online role, says the News has, "a deeper connection to its readers than any other newspaper I've worked for." When the paper writes about someone who needs help, it is overwhelmed with responses. Warren says The News also has a connection to voters and can affect political change.
Warren took her first plunge into multi-media in 2008 with "The Next Mayor" that chronicled every step in a mayoral race that had no incumbent -- a joint project with Philadelphia's public broadcaster WHYY.
Check This
Philadelphia Daily News Reporters, Barbara Laker and Wendy Ruderman, won the 2010 Pulitzer Prize for investigative reporting (See the Enterprise Stories to read their complete series.) Michael Days describes a plan for a new interactive print/online newspaper focusing on what people like to do on the weekend. Wendy Warren says she doesn't spend time, "worrying about how long print will last" and gives advice on preparing for the future.
-- Sara Brown and Paul Steinle