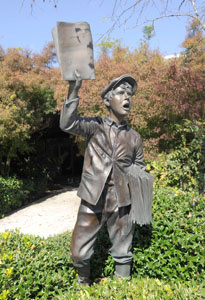 A bronze newsboy outside the Herald-Courier honors a great tradition, but the newspaper no longer employs individual, school-age carriers to deliver the papers.
Summary
The state line dividing Tennessee and Virginia runs through the middle of Bristol. The offices of the Bristol Herald-Courier are in Virginia; the printing facility is in Tennessee. The Herald Courier has a "converged" newsroom with WJHL-TV in Johnson City, Tenn., and together they produce online and broadcast news for Northeastern Tenn. and Southwestern Va. Both operations provide content for TriCities.com, a subsidiary of Media General's Digital Media Department.
Carl Esposito, publisher of the Bristol Herald-Courier, believes that their newspaper's watchdog role is the most significant contribution they make to their communities; two of their seven reporters are dedicated to investigative reporting. J. Todd Foster, former managing editor, (he departed in August 2010) says that investigative reporting is, "the niche that will save American newspapers."
During the 2009 recession, they chose to stop serving low penetration regions of their circulation area, so they wouldn't have to cut as many of the newspaper's reporting staff. While the newspaper lost 10 percent of its circulation, it improved customer service and, according to Esposito, saved the majority of their newsroom jobs. That commitment paid off for the newspaper when the Bristol Herald-Courier won the 2010 Pulitzer Prize for Public Service. (See Daniel Gilbert's bio and the links to his prize-winning series, "Underfoot, Out of Reach," on the conflicts over Southwest Virginia's natural gas wealth, and information about the Investigative Reporters and Editors fellowship Gilbert established.)
One of the most successful cost saving changes the paper made in recent years was building its new state-of-the-art, narrow (11-inch) web, three-wide press facility in 2006. In addition, it reduced font size from 9.5 to 9 in order to reduce newsprint and maintain its content on each page. Another change, scheduled to occur in January, is the consolidation by Media General of the Herald-Courier's news operations' copy-editing function off site.
Check This
The publisher, Carl Esposito, stresses the newspaper's support for local non-profit organizations as one of its greatest contributions to the community. The managing editor, J. Todd Foster, raises the flag for the strategic value of investigative reporting both to serve the community's needs and to distinguish the value of the newspaper in the marketplace. And, the TriCities.com content coordinator, Heather Provencher, explains how the newspaper's converged newsroom provides more information to the newspaper's and the website's readers with its expanded news staff.
-- Sara Brown & Paul Steinle