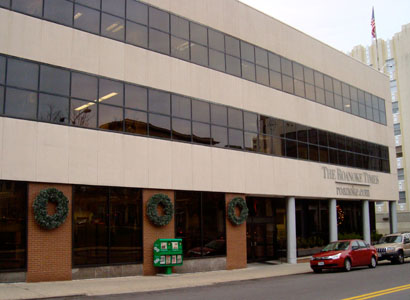 The Roanoke Times, a Landmark Media Enterprises newspaper, is headquartered at 201 West Campbell Ave., Roanoke, Va.
Summary
"Finding a revenue model for digital is like finding the Holy Grail," says Roanoke Times President and Publisher Debbie Meade. While they haven't found the perfect model, they believe they're doing the right things in the interim by:
Integrating their Roanoke.com and print businesses more than five years ago
Melding their digital and print ad sales staffs
Reducing costs through attrition and restructuring
Keeping the quality of their content consistently high
Initiating their own "daily deal" with local businesses
Creating three community tab publications with associated websites
With 97 newsroom employees, they have the "largest most respected news gathering team in the [19- county] region," says Meade. They have won the Virginia Press Association's Public Service Award 2 out of the last 3 years, including their coverage for the 2007 Virginia Tech shootings.
Editor Carole Tarrant describes their audience as "rushing toward mobile," with different needs than their print readers. They use major news projects such as an Interstate-81 series (click on Enterprise Stories) as an opportunity to gain skills in digital technology. For that series they experimented with database reporting and gave readers "tools to play around with data on the website" and opportunities to share their own I-81 stories. Meg Martin, online editor, appreciates that while all the newsroom staff works digitally (click on Backgrounder), "journalism is the heart of what we do."
Check This
Meade, Tarrant and Martin each describe a time when the power and purpose of journalism became clear to them (click on J-Epiphanies on the toolbar). Meade, circulation director on 9/11, stood on the corner, and handed out free special editions to motorists. Tarrant and Martin remember the importance of the web coverage right after the April 2007 Virginia Tech shootings; it was Meg Martin's first day on the job.
Coming Next
The S.E. Atlantic States series: The Fayetteville (N.C.) Observer, The (Charleston, S.C.) Post & Courier, and The Rome (Ga.) News.
-- Sara Brown and Paul Steinle