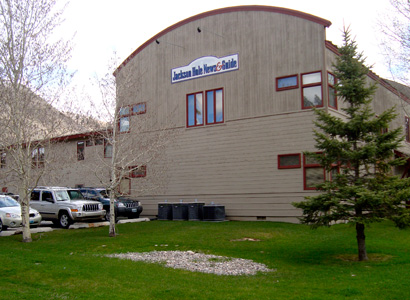 The Jackson Hole News & Guide and the Jackson Hole Daily are both written, edited, assembled and printed at 1225 Maple Way in Jackson, Wyo.
Summary
Kevin Olson, associate publisher of the Jackson Hole (Wyo.) News & Guide and the Jackson Hole Daily describes small town publishing as having an impact on your community "real time." You publish a paper in the morning and get feedback by lunchtime in the line at a local restaurant, he says. The newspaper is the "central gathering point, " the "town square," the "common pillar of our community," says Olson. It is for local residents that the newsy, in-depth, paid weekly Jackson Hole News & Guide (ave. circ. 8,600) is produced. That's only half the picture.
Jackson, Wyo., designated by TripAdvisor as a "Top World Destination" is a resort community famous for skiing and outdoor recreation located at the southern end of the Jackson Hole Valley, close to Yellowstone Park. (Click on Enterprise Stories 2010 Best Pictures) The free, six-day Jackson Hole Daily (ave. circ. 10,500) serves this tourist audience. The Daily is a "quick read" containing 3-4 of the in-depth local stories each day from the weekly News & Guide and multiple national and international AP wire service stories to keep visitors abreast of important news.
This "dual newspaper model" has proven successful with readers and advertisers, says Olson. (Click on Story of the Newspaper to learn how this model came to be.) In addition, because there was no central real estate site in their market, the Jackson Hole News recently built a new website – www.jhpropertyguide.com to serve the far-flung second home market. Olson says it's doing well: "We expect to pay down our [launch] costs in a year." They have opted for local control in their web business initiatives, avoiding third-party partners. (Click on the Backgrounder to learn more about the newspaper's business operation.)
Co-editor Thomas Dewell says they discuss journalism ethics frequently in the newsroom. "It's a key to our business," he says, "because – as in life – all you have is your credibility. If a newspaper doesn't have its credibility – its audience figures it out real quick. And its audience turns away," says Dewell. The News & Guide has figured out how to deal with the vexing topic of anonymous online reader comments, – it prohibits them. "They are a jungle of innuendo and anonymous attacks," says Dewell.
Check This
When asked about the need for newspapers to adapt to continuous change, Dewell said that facing change is not new for newspapers. "I would wager that newspapers have been changing from the day they were invented and have continued to change," says Dewell. "If you don't adapt you die." Even in the digital era, Dewell believes the key formula for continued success is practicing good journalism. "Good story telling; good photography. That's as important as ever," says Dewell. Click on Journalist's Epiphanies (J-Epiphanies on the toolbar) to hear anecdotes about when the power and purpose of journalism became clear to Olson and Dewell.
Coming Next in the Mountain States series: The Deseret News (Salt Lake City, Utah) and The (Grand Junction, Colo.) Daily Sentinel.
Follow us and comment on Facebook
-- Sara Brown and Paul Steinle