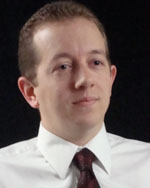 John Walker
Website Coordinator, The Opelika-Auburn News
Opelika, AL
[AL-E 0301]
---
It would have to go back to my first year working in radio at my college.
The advantage to our station was – it was an actual commercial radio station with a 60-mile range. And, I remember, it was within my first month or two working there, we had this serious – it was one day of tornadoes that were just popping up left and right in Mississippi. And a lot of people lost power during this.
And, I thought, "How are people going to find out about this kind of stuff if they don't have power?"
The simplest thing – a battery-powered radio.
They were able to – people were able to tune into our radio station and find out where the tornadoes were. Where the damage was. What to avoid. Where to go. It was the need to know what to do – in situations. The need to know what's going on in your community. It's people want to know what's going on.
So I figured: I like doing this. I like being that voice of information for people. I guess that's what really clicked for me. It was, and I hate to use that as an example but – tornadoes. It was information that people needed to know on the spot, right then and there – let's give it to them. Let's not wait. Let's do it now. Let's help the public. Let's get them the information they need.