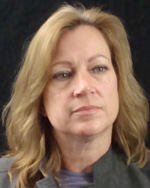 Laurena Mayne Davis
Managing Editor, Daily Sentinel
Grand Junction, CO
[CO-E 0201]
---
I'm thinking of a time when I was an advisor at a student newspaper. And student media even have more of a challenge. They're more at a power differential in their careers.
There was an editor who discovered that there were some things that should of happened in open meetings with the Board of Trustees that clearly didn't happen – weren't talked about – and yet a decision was made. And that editor went after those recorded minutes from executive session to try to find out if the discussion happened there. And the discussion was about a job description for president – a new president for the college.
That was an uphill battle for her. It ended up in the courts. And she had to go on her own because she was an employee of the college as well, so she did this personally outside her role as editor. And faced a lot of criticism – a lot of pushback – on the campus community.
She stuck it out; she got the information. And I'm proud to say now she's received her PhD in journalism. And not just because of that event, she was a strong student before who had a lot of good teachers who had influenced her. But I think with that event did for her and for me – as student advisor – was to realize that if you do things for the right reasons and stick to your guns, even from a student to administration level on a college campus, the right things can happen. The right information can come out.