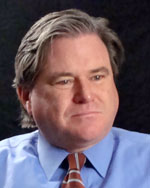 Timothy Dwyer
Executive Editor, The Day
New London, Conn.
[CT-E 0201]
---
I guess when I was working at The Boston Globe – I was still in college – hadn't graduated yet. And, to show how long ago this was, there was a homeless couple, and they were one of the first homeless people in Boston. That's how unnoticeable it was.
They hung out on a corner on Huntington Avenue.
It was such a big deal that the paper said, "Why don't you go do a story on these homeless people?" Because there just weren't any. And they were either in shelters or they were in hospitals – the hospitals hadn't been closed down.
So I went and talked them and did a story on the homeless couple. And the day the story appeared – the phones started ringing, and letters started coming and, within a week, the homeless couple wasn't homeless anymore. They had an apartment – people sent cash in envelopes.
And, within a week, they were – they had a place to live. And that was the power of one little story. So that [story] was pretty much a bell-ringer.