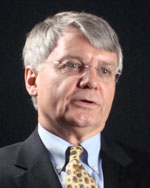 Otis Raybon, Jr.
Publisher, Rome News-Tribune
Rome, GA
[GA-E 0101]
---
I guess when I really saw, what we could do – the power of newspapers – is – a good friend of my family, my wife and I – when we were publishers in Americus, Ga. [He was a] veterinarian – his children the same ages as mine – came by my office one day and says – he just built a new house – and says, "I'm going to sell my house."
And I said, "Sam, you're crazy." And I said, "Why?" And he said he and his wife felt the call to go to the missionary field. And they did, and they went to the missionary field.
And my wife and I and my two sons, in 1996, visited them in Trujillo, Peru – we spent almost 10 days there.
He had a need for New Testaments that he could take with him when he visited in the remote mountainous areas of Peru – tribes. And he wanted to leave a New Testament behind. I came back from that trip, and I wrote a story about our experience, in Peru, with Sam and his wife, Janet, and their children.
And, as a little side note, I wrote that Sam had a need for Bibles – for New Testaments. And he needed about $3,500-$5,000 – I don't remember the amount. Because of the story that I wrote it, we raised that money. We were able to send him about $3.500 that that story raised and helped him acquire those Bibles and helped him leave those Bibles behind as he made his travels.
That's when I saw how important – I knew how important it was – but I guess that was the most personal thing to me that solidified my career is that we have an opportunity in our business to help others in varying degrees. It may not be a trip to visit a missionary friend, it could be anything, but we have opportunities in this business – to help others and to help our communities.