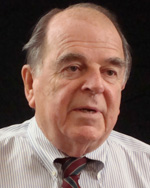 Dolph C. Simons Jr.
Chairman, The World Company; Editor, Lawrence Journal-World, Lawrence Journal-World
Lawrence, KS
[KS-E 0101]
---
I was out at my grandfather's house on Dec. 7, 1941 – Sunday – we always had dinner with my grandparents. And I was laying on the floor, and I heard about Pearl Harbor. And dad said, "We're gonna' put out an extra."
And so we put out an extra on that Sunday. We had no Sunday paper. And my brother and I were given whistles – like a referee's whistle – and we were walking up and down the streets blowing our whistle yelling, "Extra, extra!"
And whether that's the bug that bit or not I'm [not sure]. I worked as a reporter for the London Times. And that was, uh – I wanted to learn more about Europe and that was a wonderful experience. One of our chancellors here, Franklin Murphy, who went on to be chairman of Times Mirror urged me to do that. And then I went down and worked in Johannesburg on the Johannesburg Star.
I think all those experiences, whether it was blowin' the whistle on "Extra, extra!" – Well, I was 11 years old then, and my brother was 9. Selling extras was a thing that got me involved.
I always seem to want to be in the business. And think it was – my dad didn't push it at all – whether it was my grandfather and my dad. I just can't imagine any other business that would be more interesting, fun, and even kinda' – again you don't take yourself that seriously – but you feel that maybe you're doing something – hopefully everybody says that you wanna' leave your community better than when you found it, but I think a paper – or whatever we're going to call a paper – can indeed do that.
Whether it's city government, whether it's plain government, whether its environment, whether it's good opportunities – I'm frustrated; I tell you can just sense it. Why in the heck…? People outta' be busting their guts trying to figure out how to do this thing. And the opportunity – and that's what bugs me.
If we did look back, if we could project ourselves out 10 years from now, and then look back and say, "You know, why didn't we grab that opportunity? It was there, and we didn't have the smarts or the courage to go ahead and do it?"
I'll be dead one of these days pretty quick, but I would like to figure out how in the hell do we come up with a plan to take advantage of the opportunities. And I think we have this responsibility – to try to inform the public.