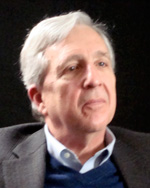 Miles Forrest
Publisher, The Courier
Houma, LA
[LA-E 0101]
---
More than anything else you see the impact that the newspaper can have in its ability to shine a light where there has not been one before.
One story I remember, particularly, was back in the 70s.
We decided to take a look at prescription sales to the jail, and who was selling those prescriptions, what were they charging for those prescriptions, how did whoever was selling them get – was able to do it. I was in the business department at the time, but the reporter and I had a pretty good relationship, and there were a lot of numbers involved, so he came and he'd sit with me every night, and we'd go through numbers and do computations. I got involved in this story just right on the edge, but enough to be there while it was being developed and to go through the process.
As a result of that story, everything changed – in terms of the story we were writing about – the situations we were writing about, but in terms of my appreciation for what we did and how it could impact the community – and certainly, in my estimation, in a very positive way.
We weren't out on a crusade, but at the same time we came across a situation that just didn't look right, and it turned out it just wasn't right. And we were able to affect it and affect it in a positive way in our community.