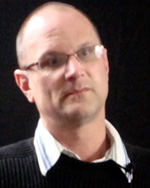 Keith Magill
Executive Editor, The Courier
Houma, LA
[LA-E 0201]
---
Katrina was a monumental …. I'm from – born and raised in New Orleans – and I have family and friends there and some who had really, really rough times. Some who are lucky to make it through with minimal damages to their homes and people that they love. But, we were here, and we're about an hour outside of New Orleans.
We thought we're going get a direct hit here. It jogged just east right before it hit the coast. And it looked like it was gonna be a category-four storm. But we had – we give most every storm that I can remember – we've given people an opportunity – and the newsroom will get together and say look – I'm not going to – I'm not going to force anybody to stay in harm's way. And I mean it – if you feel it's not the right thing for you to do – I want you to just be able to go, and with no repercussions and with no concern other than your safety. And most people, in Katrina, said – you know – I would prefer to go.
But the people who stayed and put themselves in harm's way, and delivered news – we had two people stay in the courthouse with police, fire, you know, just first-responder-type folks, and they sent news dispatches through a laptop to a Palm Pilot in our car as we [drove away] – cause we left just long enough for the storm to pass and come back in.
But we posted things from a Palm Pilot in the car on the way to one of our staff members parents' houses in Monroe – supposed to be about five or six hours away but is about 11 during evacuation – onto the web constantly. We never stopped working and publishing stories online the whole time, even if we weren't sitting here in the newsroom. We were able to do that.
But the willingness of these young journalists to put their lives on the line – you know, to keep people informed about what was happening to them under the most uncertain and difficult times has that – that impressed me. And impressed upon me what we really have here as a group of people.
That kind of dedication is hard to find in any field, in any walk of life, but to see it in my own newsroom – it just made me realize what we really have – how powerful of a mission it is, and how seriously the people who do it, take it.