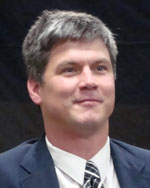 Tim Archambault
VP, New Media and Digital Operations , Portland Press Herald
Portland, ME
[ME-E 0301]
---
Every year from 2000 to 2008 or 2009 – I can't remember – I was involved with driving the election results for the entire state of Maine every November.
The number of people that came to our website and the number of people that viewed all those results for the night of the election and the day after and the day after was just amazing. The power of the newspaper delivered those results to the public.
That really taught me a lot about the power of our brand, and what we delivered to the community.