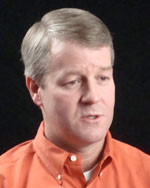 Clay Foster
President, CEO & Publisher, Northeast Mississippi Daily Journal
Tupelo, MS
[MS-E 0101]
---
We had a snowstorm hit here, I guess, the first full week of January, a few weeks ago, and snow really cripples Mississippi. We're just not used to snow.
We struggled getting people into work that day. But, obviously, we start every day with the expectation that we're going to print and deliver our papers – some way, some how.
We were very short staffed, so I was manning – one of three people that were manning the phones that day. Our phones were ringing off the hook. We had – over the course of two days until the snow cleared enough for us to get back to 100 percent delivery – we received over 1,500 calls from our customers
Most, OK, and wondering where their paper was, but wondering when we were going to get there.
You know, you've got people looking out their window who are scared to walk outside because of the snow and ice, but they're wondering why you didn't get the paper to them. That just sends a very powerful message.
So, when someone asks me about the future of print – and I'm on the phone listening to 1,500-plus customers over a two-or-three day period – I'm thinking: "Wow! We've got a tremendous opportunity, going forward."
So, that's less of a journalism anecdote but more of the newspaper. The print newspaper is very important to a significant part of the folks that live in this community – of their life. They've grown up with it, or either they've come over time to it. It's become a very integral part of their life. And they just miss it when it's not there.