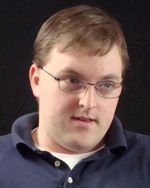 Michael Becker
Web Editor, Bozeman Daily Chronicle
Bozeman, MT
[MT-E 0301]
---
I wasn't working here at the paper at the time; this was during the period when I was away. But we had on – it was 2009, early March – there was a gas explosion downtown. Several buildings – part of a block downtown – exploded; one woman was killed. This happened shortly after eight in the morning – early. Thankfully downtown wasn't very busy yet.
And what happened was from my office where I was – I was monitoring Twitter that day – and I started to see reports from local people that I was following what happened downtown and what is all this? There was a loud explosion. Then the reports started becoming clearer, clearer, and clearer as to what happened. And throughout the day people volunteered their time to be on their computers and relay valuable information.
At the same time my wife, who was working for the paper, had of her own volition a couple weeks before started the Bozeman Daily Chronicle's Twitter account. And on that day it went from having a very small modest numbers of followers to having a lot of followers as she began to become the conduit for information.
You know, I saw on that day – we all wrote blog posts about it back in the day, we were very ideological about what happened that day because we were fresh in the afterglow of what we thought was this big revolution in journalism. That this was citizen journalism at its best, right? And I saw that day that despite what all the citizens were saying – and, you know, it was valuable, they were putting out good information – it wasn't until the next day's paper that I really understood, I think, that it took a newspaper to bring it all together into a place where people would consume it, considerate it, and learn from it.
People watching Twitter that day and in the couple of days afterwards as the pieces started to get picked up downtown, they would've gotten snatches of the story. They would've gotten lots of links. And for some people that's enough.
But when we – the paper – "we" – I wasn't part of the paper at the time – when the paper ran a huge front-page photo, you know, that was so big it went below the fold of an aerial shot of this devastation, and then packaged, I think, five or seven stories written by reporters who were scrambling around like mad that day, and covered the Twitter side of it. That kind of packaging really made me understand that this hectic conglomeration of how a newspaper comes together every day online and in print – that that was something that citizen journalism, at the time, just couldn't emulate.
And I think that that kinda' guided me. It set me off on a steep and thorny learning curve reading about this stuff, you know, so that my passion and ideas about citizen journalism have been tempered a little but in the years since.
I still think it's very valuable. But I also think that it takes a newspaper – or at least paid journalists – to do the best job.