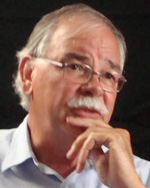 Mike Jacobs
Editor & Publisher, The Grand Forks Herald
Grand Forks, ND
[ND-E 0101]
---
There was a controversy in Dickinson, [N.D.] between the City Council and the County Commission. I don't remember now what it was. Dickinson at the time was a growing community, and there were lots of zoning issues and the like.
They had a joint meeting that I covered. And, the city people had brought their zoning ordinances. The County people had – this is typical, you know – they had just, sort of – come.
And so I wrote a kind of – I wrote a little story about – one side was prepared and the other side wasn't. And so no agreement could be reached. And so, in the morning, the County Commission chairman called and said, "We're having another meeting and I'm bringing my books."
And I thought – that's happening because I pointed out they had made a critical mistake. They didn't – they didn't come prepared. And so the city – the city had an advantage over them that shouldn't have happened.
And they knew – they recognized that – after they read it in the paper.
I had the same sort thing happen this weekend. I wrote a column about the Fighting Sioux controversy, and I got an email early Sunday morning from a woman that said, "Thank you, for that. Now I understand where people are coming from."
You know, it's just the value of writing something down and sharing it, you know.
God knows, like every newspaper editor I get more criticism than praise. But it's always gratifying in either event because it shows me that people do take it seriously.