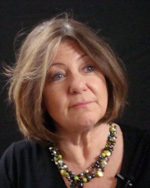 Ginny Sohn
Associate Publisher, Santa Fe New Mexican
Santa Fe, NM
[NM-E 0101]
---
I attended a town hall meeting with two of our local politicians – a senator and a congressman. And the town hall meeting was packed and there was some conversation about – from someone who recently moved to Santa Fe, New Mexico, from California. And they did quite a bit of bashing of the state of New Mexico and found fault in a lot of areas.
So, a local man of Spanish descent, whose family had been here for generations, stood up and began speaking. And recently The New Mexican had published a small magazine called "The 400 and Beyond." And it was written by all local high school students about our 400th anniversary. And one of the very good essays that were written in this publication was written by our local senator's son – who is an Anglo.
He wrote about the culture and the diversity of Santa Fe, and what it meant to him to live here and be raised here and go to school here. And this man – of Spanish descent – stood up in the town hall meeting and said to the senator, "I read the piece that was written by your son. And I just want to thank you –for, for – because many people do not understand and don't really get what it is we have here that is such a jewel – the diversity of the land of enchantment of Santa Fe." And he thanked him. And said, "Oh, we're such a crappy town – that's why all these people from California want to come and live here."
So just getting that across and bringing together and communicating the information, and the problems, and the good things about our community – that's what we do.