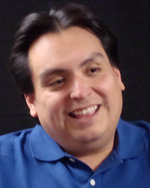 Henry M. Lopez
Digital Development Manager &amp Project Manager, Santa Fe New Mexican
Santa Fe, NM
[NM-E 0301]
---
As I was reporting, the "Ah-ha" moments for me were obituary writing. And a lot of folks in the newsrooms don't like writing obituaries, but I actually did. And when those assignments would come up, I wanted them.
I had just come to Santa Fe from California, and went to write about the death of a young man a year later. And I went to his family's home, and I sat in their kitchen, and it looked a whole lot like my own grandmother's kitchen. And we talked for two-and-a-half hours about their son. And at the end of it, the mother was in tears and thanking me for coming out because someone cared. And she handed me a big sack of frozen green chile. And if you're in New Mexico you know that nothing says love like a bag of green chile.
And I just remember going home that night, and thinking how important it was to these folks that their son was being written about in the newspaper. And for that day, when that story ran in the newspaper, he was as important as the president of the United States.
And I know they kept that newspaper – and people don't clip websites the way they do a newspaper but – you knew that they had a real emotional connection with this newspaper and the newspaper in general. And that was – and similar experiences writing obituaries – those were my "Ah-ha" moments – when it comes to family.