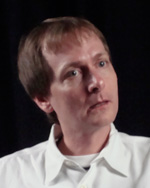 Rob Curley
Senior Editor, Digital, The Las Vegas Sun
Las Vegas, NV
[NV-E 0301]
---
I always wanted to be a sportswriter, you know; it was important to me.
The first job that I got at a newspaper was – a real job, benefits and everything – was covering education. And then I went from that to being political reporter. And it was covering politics, when I was at The Topeka Capital-Journal, I realized that when you write these stories people's lives change. I mean – somebody might get voted out of office because of something they said that you reported on. You realized that as you are writing there were real implications to this.
And I remember when one of the first times this hit me – it was very powerful, and I was also very young and it was very sad for me to because a person I had written about called me, crying, and I felt horrible. You know, that wasn't what I was trying to accomplish at all, and I realized I just had to be very responsible about this power, you know. It sounds really stupid, you know, but, you know, the Spiderman movie: With awesome power comes awesome responsibility. I mean I felt that at that moment that I had better be on my game.
I don't know that I had like this crazy "Ah-ha" moment. I remember the first time I realized that a person's relationship with a newspaper was different from what I thought it was. It was the whole experience of the newspaper that was important. Not just my stories, but [also] the crossword puzzle and the comics – and there's a whole thing for them – even when [the newspaper] was delivered.
Because I remember I was at The Ottawa Herald and I was very excited I would be there; I loved it. And I was at a grocery store and a woman recognized me and I thought, "Oh, my God, this is like the greatest thing ever. And she says, "You work of the Ottawa Herald don't you?"
And I said, "I do."
And she says, "I been wanting to talk to you."
And I said, "Let's talk."
And she says, "You guys use to put the paper on the sidewalk, and now it's more in the driveway. How do I get it back more in the sidewalk where I liked it?"
That's when I realized this relationship is much more than my writing. I mean there's a whole other thing going on here that I don't get. But it was very powerful for me that, you know, that I had grown up loving journalism, loved writing, and she didn't want to talk about that – she wanted to know why the paper wasn't on, you know, closer to her door.