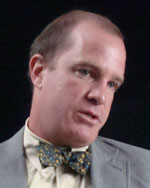 John B. Johnson
V.P. & G.M., Northern N.Y. Newspaper Corp., Northern N.Y. Newspaper Corp.
Watertown, N.Y.
[NY-E 0101]
---
I think it matters when you go to a small diner in Alexandria Bay (N.Y.) for breakfast, on a Sunday morning, and sitting at the counter are three people – each reading a copy of the Sunday newspaper, having an argument about what's going to happen down the river in Cape Vincent because of some decisions that were made by the Board of Supervisors around wind towers and wind setbacks. And to see them – see three friends – talking and arguing about it means that those three guys or those three women are going to walk away with a better understanding of the issues that are facing the community.
Personally, I love the great turn of the phrase. I love great writing, and I don't have a lot of time at night with three children that are under 8 to get much free time to read. So, my wife says: "You've got to work through the tomes on your bedside table before the table collapses under the weight of those books." You know, I move a few pages a night – I can't move the volume I used to.
But I can move through something like The Wall Street Journal, and read some of the fabulous opinion pieces or – especially over the past two years as the country has gone to some interesting changes. And I come away feeling just more aware of what's going on, and it's good, right?
You know this life is short. You can't put another quarter in when you reach the end. And your life becomes richer the more interaction you have with people. And it's better, I think, to have interaction with people of some issues of substance that make a difference for the next generation that's coming. I think that is really important.
I feel like I get that from reading. I feel like I get that from some of the journalism. I feel like I get a lot of evil glares too from people from the journalism, and I think that's just as good too. You got to have a thick skin in this business.