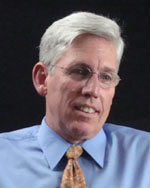 Bob Gorman
Managing Editor, The Watertown Daily Times
Watertown, N.Y.
[NY-E 0201]
---
My first big story – this was in South Carolina – I was working at a twice-a-week newspaper. And I was covering court. And all of a sudden all these people show up – and they were pleading guilty to food stamp fraud. And I looked at everybody and I thought: Well, this is really interesting. How did – what happened here?
And what had happened is all these people had created dummy families, and they'd gone in and were getting food stamps for three families – not just one family. They were creating entire out-of-whole-cloth people. None of these people had the education, background and sophistication to do that. So, we could have run a – printed a – story that 30 people pled guilty yesterday to food stamp fraud, but [I] just kept looking at it and looking at it.
And turned out there was a huge scandal brewing within the Department of Social Services for lax oversight, and a lot of people just going through the motions in that department. And whatever anybody came in and said – they agreed; they bought it.
And, just by chipping away at the edges, all of a sudden, the next thing I knew, the state's bringing in a – there's a grand jury investigation and [it] ended up 100 people were involved. Well, I guess – I guess journalism mattered that day.
There was a van that crashed in our town. And the van was on its way to Myrtle Beach and its axle broke. [The] van rolled over and there was 14 people in the van. Somehow – miraculously – nobody was killed. These were all people who had been going up to Myrtle Beach to change sheets.
Myrtle Beach, you know, has all these motels and hundreds of people come in every day – poor people, who can't get a job in their own little community – and they drive 30, 40, 50 miles one way – in vans – change all the seats and go back home.
What was happening was people were taking vans that were made for seven people, taking out the seats, putting in benches and carrying all these people.
I got the accident report I looked at it, and I said – I got Ford Motor Company. It said van's made for seven. And I started checking with the state, and they said: "We don't license – We license, but we don't certify the capacity for people in there." They just overlooked an entire element licensing, and all these vans were over packed – and it was just waiting for somebody to get killed.
And we wrote these stories and the state changed the law. People lost money – the van driver who was charging everybody, you know, packing people in like sardines. But the state's a safer place because of journalism. So – I did those stories very early in my career, and if it isn't for journalism I can say it's a dark – it's chaos out there without journalism – that's the world.