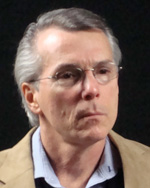 Zach Ryall
Online, Managing Editor, Austin American-Statesman
Austin, TX
[TX-E 0302]
---
Some of the most powerful journalism that, I think, we've produced has had to do with both watchdog reporting as well as just great enterprise reporting.
I recall a visual piece and word piece that we produced some years ago by a team – one of which still works here at the paper – about a young woman named Jacqueline Saburido – who was a young Venezuelan U.T. (University of Texas) student who had been involved in a very, very tragic accident, involving a drunk driver on one of the winding roads just west of town here years ago. And she was horribly burned in that accident and horribly disfigured and thought dead and was not.
And we first became aware of her when we were covering the trial of the drunk driver that hit her. And one of our photographers – Rodolfo Gonzalez – who still works for the American-Statesman – and a reporter – who is not with us any longer – decided they wanted to chronicle both the trial and her recovery, which was a very, very long painful recovery.
And so out of that body of work was produced a multi-page spread of just stunning photographs that documented her and the relation she had with her father and mother, and the relation she developed with the young man who hit her who served prison time.
And I recall when that work was produced, feeling just incredibly proud of what we do. And how nobody else could have done that type of work – except a newspaper. A newspaper that was willing to dedicate the time, resources and newsprint – of course – into that type of story.
So what did it change? It immediately was seized upon as a national story. Jacqueline Saburido went on to become a spokesperson for a number of entities – Mothers Against Drunk Driving – and donated a lot of her time and our images and her story to campaigning against drunk driving.
And that campaign still goes on today.
This young woman went on to do everything from appear on "Oprah" and just gained a huge amount of national exposure. And part of that was, I think, because of the piece that Rodolfo and his writing partner at the time produced and The Statesman's commitment to telling that type of story in the depth that we did.