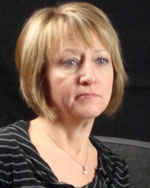 Carole Tarrant
Editor, The Roanoke Times
Roanoke, Va.
[VA-E 0201]
---
A clarifying moment for me, in my career, has been working here during the shootings at Virginia Tech.
I think I really understood what a newspaper could do in the community at that point. I mean we were very much that connective fiber that people were looking for [for] answers that we could help provide them.
The website performed a great role in getting more information out much more quickly – the pace of the print edition was just a dinosaur. It was way too slow for what was happening right then. So it was getting information out, but fact checking it and being a calming presence. Because in those first few days in those first few hours people were just – it was just chaos – they were really looking for us for help us understand this and make sense of that.
And we could do that. The thank yous that we got for that were so passionate about what role that we played in that. And again – it was the calming – because we saw such a difference in the national media.
The national media was: "Who did what, and why, and who can we blame?" And it was stirring the pot, which I can understand from a national perspective, but as a community paper we really needed to be in tune with what the community mood was then, and what they needed – to share the mourning.
We focused so much – at that point – on the victims. Because we thought everybody deserved a very good story of who they were. And [we] just turned the whole newsroom over to that, versus launching into, well: Who did what and who's to blame?
I know that stuff comes out. I knew there would be a special blue-ribbon task force, and there'd be plenty of time for that. But in the immediacy of that – right after the shooting – it was: Who had died and how could we remember them?