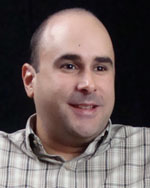 David Farré
Digital Developer, Burlington Free Press
Burlington, VT
[VT-E 0301]
---
I think a lot about my days at The Daily Targum (Rutgers University), when I was just discovering a whole – the power of storytelling via daily newspapers. It just keeps coming back to mind.
One of my early assignments was working with a friend and reporter on a story about this black church in the very center of downtown New Brunswick. So we showed up on Sunday morning. I took all these pictures, you know. Having a camera for a newspaper – it just lets you walk into the middle of a scene in a way you would never do on your own. And I just saw something I never would've seen otherwise.
And then back at the paper, when my friend was working on her story, she could see, over my story shoulder, the pictures that were coming up on my screen and she looked at one and said, "I wish I could write like that."
And that always – that was sort of when it clicked me – like wow. It's just a wonderful feeling to just, you know, make something like that that speaks to someone so well.
So, that's what comes to my mind.