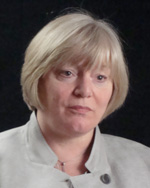 Kathy Best
Managing Editor (Creation), Seattle Times
Seattle, WA
[WA-E 0302]
---
One that comes to mind is when I was working at The Seattle Post-Intelligencer, and there had been a series of stories that had been done by many papers – including The Wall Street Journal, all the papers in Seattle, most of the papers in the Northwest – about an alleged child sex ring in a little town called Wenatchee, Wash. And the stories were salacious, and they were really well read, and the whole idea behind it was that there was this ring of adults in Wenatchee, using religion and other things to prey on these young kids. And I was at The Seattle PI as the metro editor.
And the editorial page editor – a woman named Joanne Byrd – kept saying to us. "This doesn't make a lot of sense; there's something not right about this." And we assigned a couple of reporters including a metro reporter to go and start asking questions, because the story had died down and lots of people were in jail.
So they went back and started asking questions. And they ended up finding out that what happened in Wenatchee didn't add up; the stories weren't true, people were in jail who should not have been in jail – who were innocent. And because of the reporting, more than 40 people, who had been wrongly imprisoned, were released. Judges looked at the evidence, and it resulted in many, many changes.
But the "Ah-ha" moment about that for me was the reaction in the newsroom when we decided to go take a fresh look. My newsroom was one of the newsrooms that had gone over and done all the: "Wow! ... Sex ring!" stories. And I had a lot of people, even on the metro staff, that said, "You're betraying us, you know. You don't believe in what we did. You're gonna' make us look stupid."
And that was the moment that I realized, first of all, as the Metro editor, you know, you can't make your newsroom happy all the time. But, as a journalist, that was the moment when I realized it's not enough to report the first time; it really takes courage to go back and do it again. Especially if what it's gonna' show is: You didn't do it right the first time.
So, that was a pretty critical time, and it's a lesson that stayed with me. You always, always have to keep asking yourself, "Are you sure you got it right? Are you sure?"